The Presidio Coyote 10K Dash
August 4, 2019 | The Presidio - San Francisco
Description
Join us for this amazing race through ten of the most beautiful, urban forest kilometers in the United States. The course is a rolling 6.2 mile loop with incredible scenery and approximately 600 feet of climbing. The race starts at the end of Barnard Avenue and traverses through the El Polin Spring area via the Lower Ecology trail. You will then follow the Bay Area Ridge trail past Andy Goldsworthy's Spire and eventually past the Rob Hill Campground where you will turn south and follow the historic Juan Bautista de Anza trail towards the Marine Cemetary Vista. The course then meets up with the Park Trail where it goes uphill towards the golf course and meets back up with the Bay Area Ridge trail as you head back to the start/finish area at Barnard Avenue.
Register Now!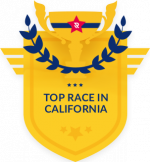 Awards
Cash Prizes for Overall Male and Female
Cash prizes of $250 will be given to each of the top male and female finishers.
Age Groups
Awards will be given to each age group winner. Age group categories for male and female are: 10-14, 15-19, 20-29, 30-39, 40-49, 50-59, 60-69, 70+.
Coyote Challenge
Special awards will be given to those racers who can complete the 6.2 mile course with lightning speed.
Male: 40 minutes
Female: 44 minutes
Course Map
Event Details
Parking
There is limited parking on Barnard Avenue, however overflow parking can be found in the Main Post. If you are using a GPS for directions to the race start, please note there is no street number for Barnard Avenue. If you just enter Barnard Avenue, San Francisco, the GPS should lead you to our race start. However, you can also type in the Inn at the Presidio, which is at 42 Moraga Ave. This will bring you close to the race start.
Please pay attention to all posted parking restrictions and meter requirements. We don't want you to get a parking ticket!
Aid Stations
There will be one water station on the Park Trail, near the race turnaround.
Race Check-in and Bib Pickup
Race check-in will be held at A Runner's Mind, 3575 Sacramento St, San Francisco, CA 94118 on Saturday, August 3 from 2-6 pm.
A Runner's Mind will be offering a 15% store wide discount to all Presidio Coyote 10K Dash participants.
Runners may also pick up their bibs on race day.
General Information/Rules
- Absolutely no exchanging, transferring or selling of bibs to others.
- The event as planned may change due to weather, permits, etc.
- Minimum age: 10 years of age
- Cancellation Policy: All race participant purchases are final. If, for any reason, you cannot participate, the entry fee will not be refunded.
- No strollers or dogs are allowed on the course.
- Each runner's official race number must be worn prominently on the front of the body and must be easily visible at all times.
- Use of iPods and mp3 players is strongly discouraged for safety reasons. Please take caution if you plan on running with music for your safety and the safety of those around you.
- Runners must follow the marked trail at all times. Any runner departing from the official trail must return to the point of departure on foot before continuing.
- Protect The National Park and please be polite.
- Absolutely no littering.
- No alcohol or illegal drugs allowed on the course.
- Only attempt to pass another runner when it is safe for both you and the other runner to do so. When passing, make every attempt to pass on their left, unless it is unsafe. Announce your intention to pass by saying, "passing on your left" (or right, if it is unsafe to pass on their left). Provided it is safe to do so, yield to any runner who announces his/her intention to pass, by stepping off the trail.
- Be prepared to share the trail with runners coming from the opposite direction.